MARK TUNNICLIFFE - COPYWRITER / CONCEPTUALISER

Concepts


Voice

Copy

Campaigns


Content

Scripts

Profile
Mark Tunnicliffe has 20 years' multi-sector experience engaging audiences, driving action and sales, helping clients to exceed their objectives. He currently delivers to a broad range of international not-for-profits and UK SMEs, having co-created global campaigns in award-winning creative marketing teams at Oxfam GB.
Handy with all the stuff a copywriter does, Mark loves generating the big ideas that shape campaigns, revels in the power of words and being at the heart of a buzzing team. And seeing the whole thing through.
Clients, including:

Not-for-profits: Greenpeace, Oxfam, Avaaz.org, UNHCR, Green Party, Christian Aid, War on Want, World Development Movement, the DEC Appeal, World Economic Forum.
Corporates: Strutt Parker, Mercedes Benz, One Housing Group, Simplecall, IDE, Medusa, Sealogical.
Recommendations and endorsements:
http://uk.linkedin.com/pub/mark-tunnicliffe/2b/b3b/69b
Contact: http://marktunnicliffe.com/about
Folio examples have been selected to illustrate range of work, and are not arranged by date.
CV Terms of Service
---
FOLIO - click thumbs to expand
---
Client: World Economic Forum / Communications Inc
Job: Video script for new international leaders' alliance to protect the Oceans
The High Level Panel for a Sustainable Ocean Economy is a unique panel launched by Norwegian Prime Minister Erna Solberg. The Panel is made up of heads of state and government from a broad range of coastal states, including developing countries.
I scripted a positioning video for the launch site, helping to establish their brand and launch the initiative in creative partnership with PGA Branding.
---
Client: Greenpeace
Job: Concepts and script for viral video in partnership with PGA Branding - Animated video for Greenpeace's Arctic Campaign.
This high-profile public pressure campaign targeted Lego, asking the toy company to cancel its promotional contract with Arctic oil-drillers Shell.
Contrasting the 'innocence' of both childhood and Lego with the polluting practices of the oil giant, the movie featured real interview recordings with children, and was among a number of products commissioned to charm new and existing audiences and generate campaign sign-ups. In its first 2 weeks, the movie received 250,000+ hits. High-profile media coverage of Greenpeace's campaign and sustained pressure from supporters ( over 6 million sign-ups) proved an irresistable force; Lego eventually announced it was dropping Shell, ending a co-branding relationship active since the 1960s - a massive PR coup for the environmental activists.

---
Client: #One Less / Communications Inc
Job: Concepts and copy for single-use plastic bottle campaign, targeting visitors to London, with PGA Branding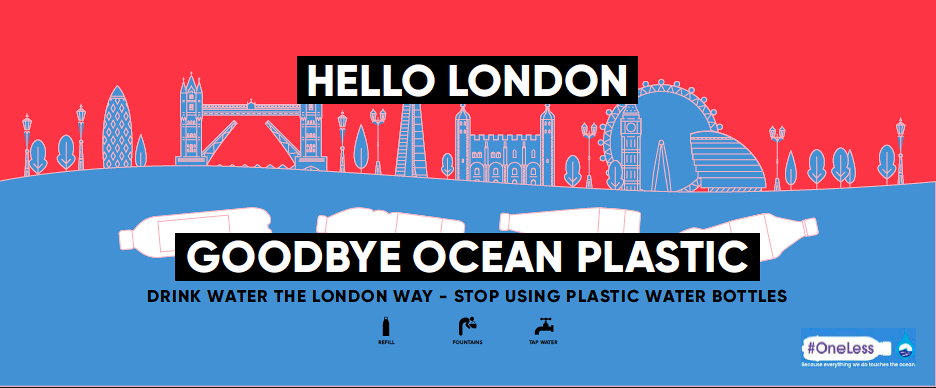 ---
Client: Oxfam
Job: Concepts / copy platforms for UK-wide 'music in the workplace' fundraising initiative
'Oxjam' is Oxfam's phenomenally successful annual country-wide live music fundraiser. The charity wants to roll out the event to workplaces, adapting activities so that employees (and employers) can easily take part. My brief was to name the event, establish a tone and create copy platforms for the sub-brand, and come up with ideas for staff involvement.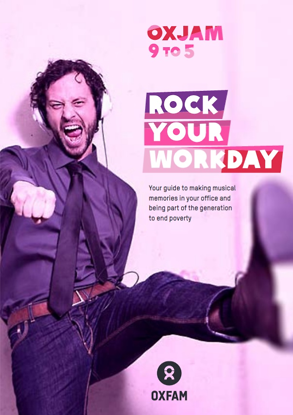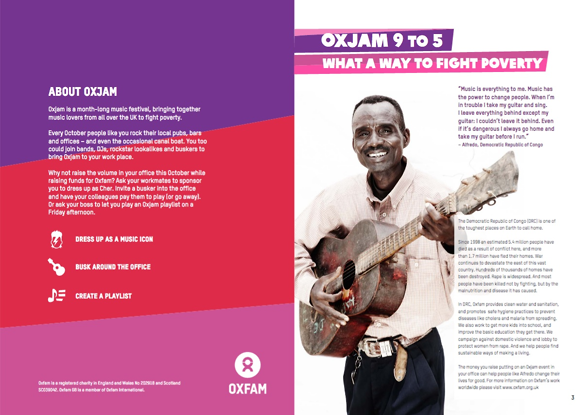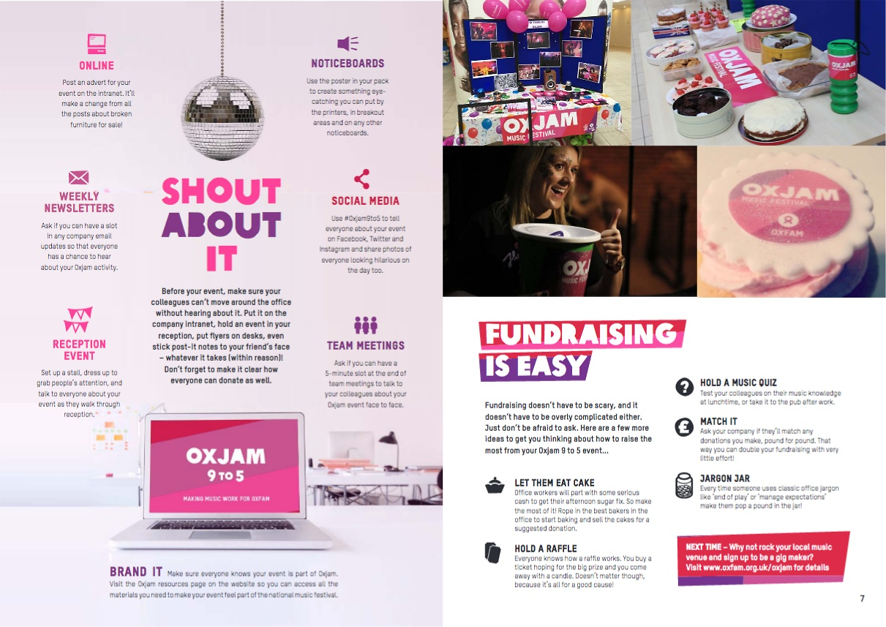 ---
Client: IDE
Job: Brand voice and copy for refreshed corporate products, for re-branded electrical distribution company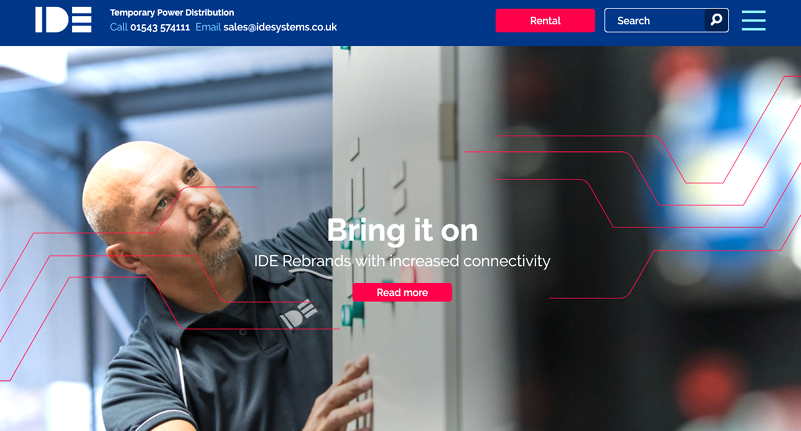 ---
Client: Green Party
Job: Concepts / copy for #ClimateSense, a campaign launched by the Green Party for the 2015 UN Climate Change Conference in Paris.
The Green Party was outraged by UK Government performance on environmental issues and wanted to hold it to account, change policies, and get a good deal on climate change. By mobilising public action, they hoped to increase their profile, influence and credibility on the political stage. My response was to devise a number of 'ways in' to inspire, engage, motivate and enable activist audiences - creating campaign strands for social media, print and national press, including #MyClimateHero (where activists can nominate people they admire) and the meme 'Action is Beautiful.'

[Images pending]

---
Client: Global Battery Alliance / World Economic Forum / Communications Inc
Job: Brand developement / art direction / copy platforms, in partnership with PGA Branding.
The Global Battery Alliance aims to create a responsible value chain for the fast-growing battery market powering the technology and clean energy revolution. We created the branding & guidelines and here include some of the concepts presented too.
[Images pending]
---
Client: Friends of Ocean Action / World Economic Forum / Communications Inc
Job: Brand consultancy during the development, launch and roll-out of a coalition of 51 ocean leaders tackling the most pressing challenges facing the ocean. Members come from business, civil society, international organizations, science and technology. My partners at PGA Branding delivered the final creative and built the site.

---
Client: Avaaz.org
Job - concepts / copy platforms for online campaigning organisation / global climate change protests
In September 2014, the online campaigning organisation Avaaz.org took the lead in publicising major climate change protests in NYC, and other cities around the world. Briefed to generate a 'brand' for the protests and concepts for publicity, I worked with PGA to create a new take on a familiar meme, plus off-line creative solutions for the campaign specifically for use on the city's subway system. (A selection is shown here.)
On the big day, breaking all records for climate change protests, over 400,000 people marched and called on world leaders to take stronger action, along with hundreds of thousands of others globally. And two months later, acknowledging the pressure coming up from the streets, world leaders signed a landmark agreement that included new and more ambitious targets for reducing carbon emmissions in the US and China.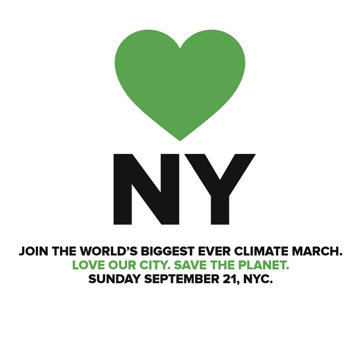 ---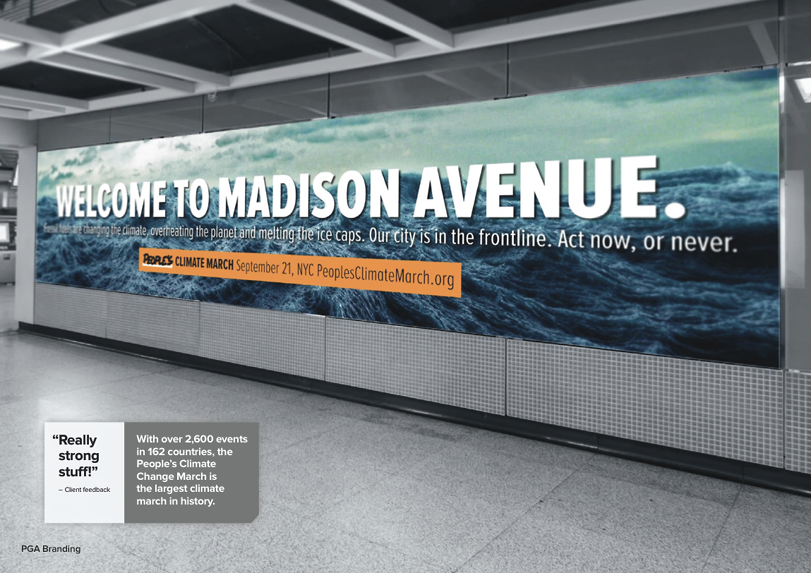 ---
Client: Simplecall
Job: B2C Website - brand voice and copy for telecoms company relaunch.
The origianl branding and customer site no longer reflected the company's aspirations, so our task was to develop and roll out a friendlier voice and a new visual idendity. This involved developing a new vocabulary and tone, and a strapline - "Hello Everybody".

Click images for full-screen view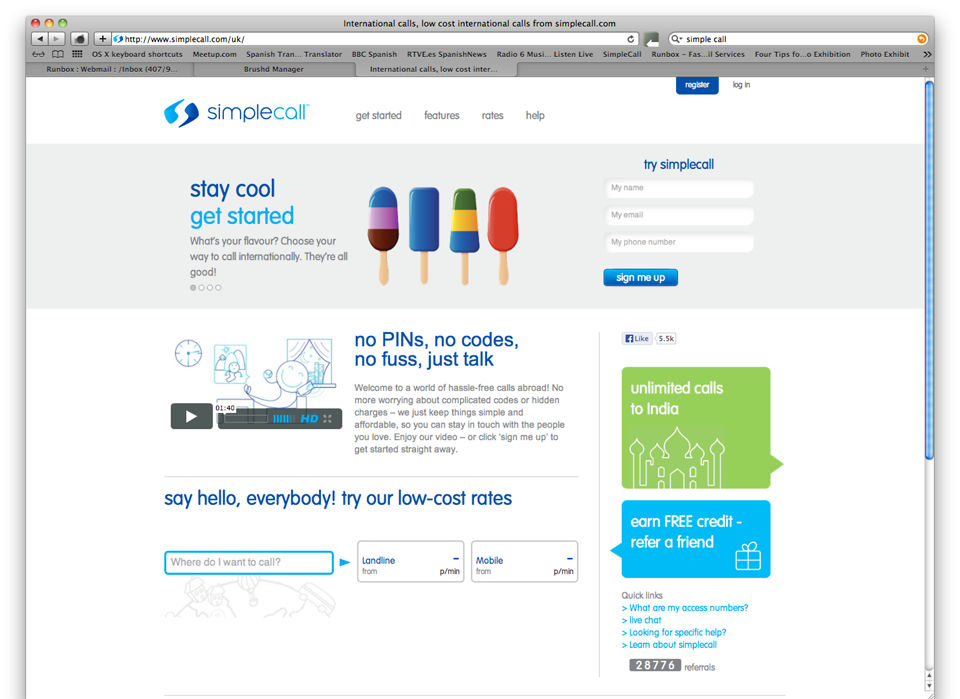 ---
Branding - Naming
Client: Community, Toynbee & Island Homes
Job: Set to become the UK's largest private social housing landlord, a new housing group formed by Community, Toynbee & Island Homes asked for a new name - a key element of their branding campaign. As a copy consultant to Blast, a design and branding agency, I was asked to explore naming options. My suggested solution - 'One', and 'One Housing Group' - provided, it was felt, a flexible and campaignable name that encapsulated the new group's unity, common values and shared vision.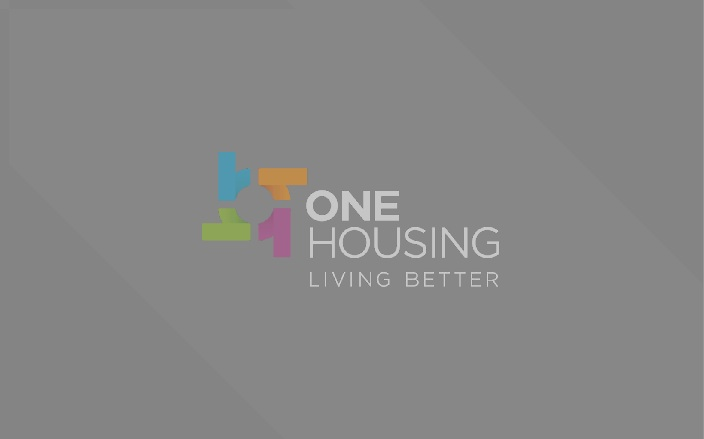 ---
Client: Sealogical
Job: Online copy for new large vessel managment app.
Sealogical is a new online, cloud-based management system for larger commercial vessels with sizable crews and big admin needs. The company wanted friendly, plain-speaking copy for an audience of experienced, plain-speaking skippers, consistent with the no-nonsense nature of their easy-to use product. (Design by PGA Branding).
Click images for full-screen view
---
Client: Strutt & Parker / Mercedes Benz
Job: Concept and copy; online sales brochure.
Brooklands - the former aerodrome and racetrack near Weybridge, Surrey, is now prime real estate. Site owners Mercedes Benz commissioned this brochure through their agent, Strutt & Parker, as part of a marketing campaign for 'Velocity' - a new 100,000 sq.ft prestige office complex they've built there. Communicating the motoring / aviation heritage of the site was top of the brief, and we drew heavily on this history of brave derring-do to create associations with bold (business) ventures, pace-setting excellence and outstanding success. (Design - Blast).
Click images for full screen view
---
Online - Business-to-business sales
Client: BLAST / Longwalk
Job: Online brochure copy for 2 Longwalk, a 48,000 sq ft refurbished office property on behalf of owners / estate managers..
---
Online - Online features
Client: AMALGAM
Business type: Architecture and Interior Design
Job: A group of independent architects, brand consultants, and interior and graphic designers - trading as Amalgam - asked for new feature content to showcase their work. Interviewing the project leaders, I supplied eight short features for their freshly rebranded website. Four are included here.
---
Print - Sales / Marketing material
Client: BLAST / Strutt & Parker
Business type: Property development
Job: Concept / copy for marketing high-spec refurbished HQ office accommodation.
Asked for a campaign to promote the property, Blast design agency and I delivered 'The Art of Work', a concept playing on the 'blank canvas' opportunity the buildings offered to potential leasers. And rather than produce a brochure, we created a set of 10 boxed A4 cards, printed on high-quality board, comprising a 'limited edition' implying this was a rare chance to secure such well-appointed property. The individual cards, some of which are attached, are shown here against white PDF backgrounds.
---
Client: World Development Movement
Job: Concept / copy for insert - donor recruitment.
Sometimes humour helps things along, especially where 'worthiness' is the default. And goats are faintly comical? So, at a time when 'Third World' charities were falling over themselves to get supporters to 'sponsor' a goat (and children) to help poor farmers, the client - who campaigned for policy change rather than 'aid' - was ready to try an irreverent creative for a donor recruitment insert. And while raising a laugh, and a few eyebrows, it generated considerable attention and debate about the issue of sponsorship.
---
Client: DEC APPEAL - Disasters emergencies Committee

Job: Concept and copy - Annual Review - The DEC is the world's largest emergency relief coordination organisation. This was the year of the Tsunami and a huge refugee crisis in Darfur, Sudan. The theme, ' a very big year', was not hard to come by. We created graphic timelines across two spreads, delivering bite-sized chunks of commentary on the DEC's activity worldwide. (Design: Paul Gallagher / PGA)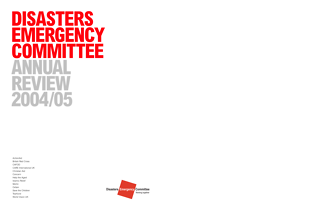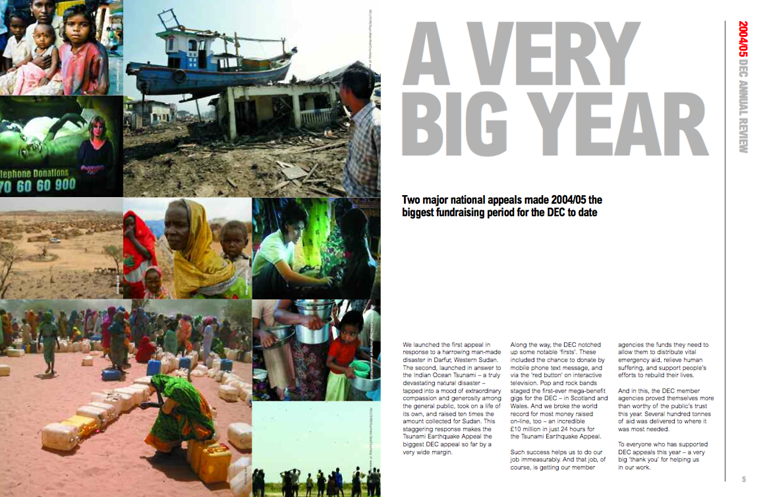 ---
Client: Oxfam GB

Job: Concepts and copy, trade justice campaign materials.
Oxfam's goal as a campaigning organsiation - to end poverty through policy change - depends for success on public support. To drum up this support, Oxfam launches issue campaigns on a rolling basis. The issues are complex, and the main challenge when developing a concept is to engage audiences and provide people with a 'way in' to the issues, then develop their understanding and, crucially, motivate action.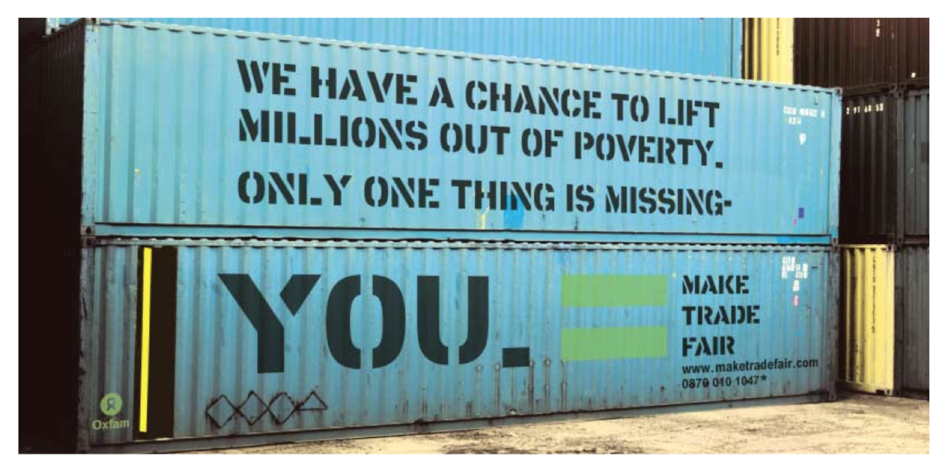 ---
Print - Donor Recruitment Mailpack - Not-for-profits
Client: World Development Movement (WDM)
'Job: Concept and copy. The 'Goat concept' extended to a recruitment mailpack for warm prospects, and lent itself to playing on mailpack conventions. So, the 'outer' copy line promises nothing 'special' enclosed whatsoever, then uses a sponsored goat (WDM don't send goats) to make a point about 'why' poor farmers have no goats in the first place.
---
Print - House Mailpack - Not-for-Profits
Client: Burnetts / UNHCR
Job: Concept and copy - xmas 'house' mailing. It's not easy to break the mould with appeal mailings. And with a broad audience of international givers, this client - the United Nations High Commission for Refugees - was in no mood to try during an annual xmas appeal. They wanted it to have an 'identity' however, and some level of interactivity, too. And our response was the 'Christmas Star Appeal', comprising a letter with first-person stories, expressing both pressing need and herioc achievment; tear-off tokens with 'costings' / donation amounts, and an opportunity to write 'messages of hope' for display at UN offices over the season.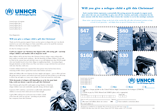 ---
Print - Corporate Brochures - Not-for-profit
Client: Oxfam
Job: Brochure. Corporate marketing materials. Oxfam published its new strategic aims at around the time of a major corporate re-brand. Leading a team of writers (and as art director), I helped to set out and explain the six measures of individuals' wellbeing that Oxfam judged vital to sustainable development - those of 'secure, healthy, skilled, safe, heard and equal.'
Extensive personal testimony, objects from the real world and bold graphics encapsulated the new brand. [See the last PDF here for my creative steer to the team].
---